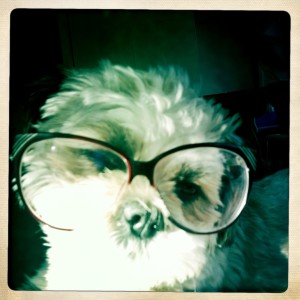 The (sometimes) rainy El Niño months served as the perfect time to bury ourselves in the books.  As any one of our Team members will tell you, education is one of the fundamental core values at DTLAvets.  Whether from specialists who lecture, from interesting cases that come to the hospital, from mistakes made or from each other, we always embrace the chance to learn.  It's interesting.  It's fun!  And when learning stops, things are just plain boring.  So here's what we've been up to this winter!
Gaby and Jan are preparing to sit for their registered veterinary technician (RVT) exams.  Once they pass, this will establish them as licensed technicians.  Techs can be licensed and non-licensed.  Licensure holds them to the highest standards and requires them to complete regular continuing education to keep their license current.  It has been amazing to watch their skills unfold and we look forward to great things from them.  Best wishes, guys!
We sent half of our technical staff and doctors to the prestigious Western Veterinary Conference in Las Vegas this February - their brains are loaded with fresh and exciting info!  The Western Veterinary Conference is a fantastic opportunity to learn about new concepts, to build on skills and to check out the newest equipment (toys!!).  Dr Flores, Dr Hu, Angie, Carla, Lauren and Gaby have been sharing all of their newly acquired pearls of wisdom.
One of the things we are most proud of is having added another soft tissue procedure to our surgical skill set.  Dr Castañeda and Dr Flores have recently completed the third successful feline perineal urethrostomy (PU) surgery at DTLAvets!  If you have ever had the unfortunate experience of watching a male cat not be able to urinate, you know that it is a very painful and potentially fatal problem.  You also know that even though his vet may unblock him, there is no guarantee that he won't become blocked again.  If/when these "repeat offenders" re-block, this is usually the time to discuss moving to a surgery that leaves the male cat with a permanently larger opening through which to urinate.  We are proud to now offer this surgery to our feline patients.  But even more gratifying than expanding our surgical skill set is seeing how much happier these boys are when they can urinate without pain!
Learning is best complimented by teaching.  So much of our job involves helping owners understand what is happening with their pets - it's one of the best parts about what we do.  But we will always be appreciative of our patients.  They are the ultimate teachers!